BLOT ME BACK

Thanks for visiting!
HIT ME BACK
Contact Blotman and share your story:
Contact Blotman
Please check back for updates, subscribe to the newsletter or submit your comments and story.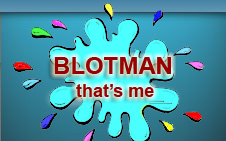 Blot.org i
s my BLOT ME BACK blog for updates and comments; please check it out when you can and help me with a click to increase my traffic ;-)

WebSiteBid.com
is a project I have yet to complete, which I recently brought out of the closet after 13 years. If you need web development assistance, freelance programmers will be able to provide the solutions.

mkGoGo.com is for the Mortal Kombat GoGo Gamers. The website is being used for testing Flippa scams and other "SEO" scams.

Windows 8 introduces Picture Password feature that need a lot of help. Check out reviews and alternatives for picture password security
.

WebHostBid.com is for obtaining the best web hosting lower costs when selecting your requirements and support levels.



10410.info 10 Star rating script for easy plug-and-play use. Without Ajax knowledge, you can have this free 10-4-10 Star Rating System.


"I shall allow no man to belittle my soul by making me hate him" Booker T Washington